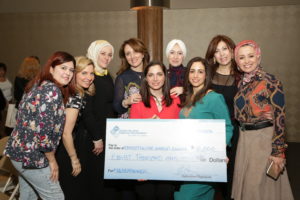 JOIN US FOR A VIRTUAL 100 ARAB AMERICAN WOMEN EVENT THAT GIVES BACK IN A BIG WAY!
Due to the COVID-19 pandemic and the importance of social distancing, we will be hosting our very first virtual 100 Arab American Women Who Care event. Because our event is moving to an online platform, we  encourage women from all over the country to join in! 
About the Event: 
For the seventh year in a row, CAAP's 100 Arab American Women Who Care will bring together dozens of generous women to pool their money and make a bigger impact to a cause that matters to them. When registering for this exciting event, each attendee will nominate a nonprofit organization of their choice. Three nonprofits will be selected at random the week of the event, and all attendees will vote on one nonprofit to receive the proceeds raised from the event.*
Amazing things happen when we give smart, and give together! Purchase your tickets below.
Good to Know: 
Tickets cost $100 per person and are fully tax-deductible
Nominations closed. Attendees must nominate only Michigan-based nonprofit organizations holding current 501(c)3 status. Nominated organizations must be carrying out the majority of their programming in Michigan. You must nominate your nonprofit of choice by filling out the box in the below form.
The top three nominated organizations will be selected at random and announced the week of the event. At the event, all participants will vote live for their top choice!
Nominations closed. Unsure of what organization you want to nominate? Check out our list of suggested organizations
*CAAP retains up to 20% of funds raised for administrative cost
TICKET REGISTRATION EXTENDED JUNE 27TH, 2020, AT 9:00AM EST