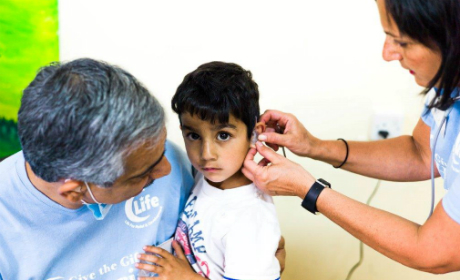 Giving "hearing smiles" to children around the world
When you talk to an audiologist, you may hear him or her talk about a "hearing smile": the moment a child can hear for the first time. The Hearing the Call Fund was launched by Toledo, OH audiologist Dr. Randa Mansour-Shousher and her husband, Hussien Shousher, to primarily support the work of HearAide, an organization they founded together. HearAide organizes humanitarian missions that provide hearing aids to impoverished residents and refugees, primarily children, in the Middle East.
Since 2014, the Shoushers and a team of volunteers have helped fit hearing aids to hundreds of children, including children like 3 year-old Palestinian refugee Ammar El-Ali, who was provided a life-changing gift: an operation that would provide Ammar with the ability to hear for the first time in his young life. Ammar was born in a refugee camp in Lebanon, with his parents unable to get medical treatment for him due to the high costs. Dr. Mansour-Shousher organized a local medical team to donate services to perform the operation. The surgery proved to be an overwhelming success. Read more about Ammar's story here.
Dr. Mansour-Shousher, speaking about a recent visit to a refugee camp in Jordan, says:
We were able to serve close to 400 people, but the need is so great. Such large numbers of needy were waiting for us that we've had to turn away adults and treat only children. From morning to evening, we literally never stopped. But we keep going: knowing that we've opened up their world to the hearing world – it's amazing.
Current campaign: 
In January of 2022, HearAide will send a team of doctors and volunteers to the West Bank to provide hearing aids to underserved children in refugee camps across the cities of Jericho, Jenin and East Jerusalem. Diagnostic audiological assessments (hearing tests) will be administered to children who otherwise wouldn't be able to access quality healthcare. Hearing aids will then be fitted and fine-tuned for those in need.
Additionally, HearAid is looking to create a sustainable pipeline of support for those that are hard-of-hearing in the West Bank. Donations to this fund will not only support hearing evaluations and hearing aids for children, but also the installation of a sound booth at BirZeit University for audiology students who are looking towards a career in treating hearing-related disorders.
Through this fund, the Shoushers will help bring hope to the thousands that go without basic hearing health care. A $500 gift will provide hearing assistance for one child: with your help we can bring back opportunity and access to education for these children.
Click here to watch Seedra hear her name for the first time
Together we can give the hearing smile to hundreds of children who deserve a chance to thrive and achieve.
Give to this Fund